Home>
> Civilian Agencies

WE ARE HERE TO SERVE YOU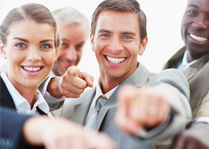 CONTACT US TODAY FOR ADDITIONAL INFORMATION
PHONE:502-272-2333
FAX:502-272-2330
EMAIL:
info@definitiveiss.com

our commitment
We are commited to understanding the needs of our customers and delivering the most innovative solutions.


Civilian Agencies
Our support models for Civilian Agencies are focused on customer assistance and technical support. We provide help desk support and assist with network management by troubleshooting switches, routers, etc. We keep our Civilian customers apprised of technology improvements including engineering changes and field change orders. Our Contract Program Managers review logistic studies and past performance reports to continually improve our established processes and streamline support. Definitive is committed to assisting the customer at every level. We provided support both onsite and over the phone.
Definitive has successfully maintained IT solutions for:
Texas Department of Criminal Justice
The equipment that Definitive supported for TDCJ numbers more than 40,000 different items. We provided help desk support for approximately 900 software products/versions. Definitive also provided the Department with equipment and software maintenance, installations, moves and system configurations, and software support services. We supported the TDCJ contract from our offices located in the following Texas cities:
Amarillo
Austin
Corpus Christi
Dallas
Fort Worth
Houston
Huntsville
Midland
San Antonio
Temple
Tyler
Definitive provided certified Novell engineers (CNE) or Microsoft Certified Systems Engineers (MCSE) to support service calls on the Department's servers. We were required to restore systems from backup media whenever required. Our service level agreements (SLA) included responding to service calls within one hour, being on site within six hours of being notified of a service need, and making all repairs within 24 hours or having loaner equipment installed.
Definitive and the Department of Criminal Justice maintained communications to ensure project success. We provided TDCJ with the appropriate reporting to ensure contract performance remained optimal. The reports addressed schedule, assess progress, and discussed problems and potential resolution of those problems.